Ready Stock: Dog Harness Set with Leash, Collar, poop bag holder and Bandanas
After making custom design harness set for our clients, we found there are many small clients looking for ready stock with small MOQ as low as 1 pcs. so we stock some hot selling items in ready stock… with good price.
This is hot selling 6 pcs  dog harness set comes with harness, collar, leash, poop bag holder bow tie  and bandanna, It make with quality neoprene and meshing back. Defeat Logo Mark: For Pet, Planet 21
Comes in 5 different patterns and 4 size.
There is no MOQ  requirement for Ready stock items from our website.
You can mixed them with different styles.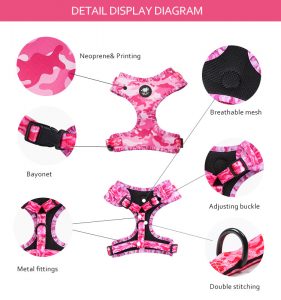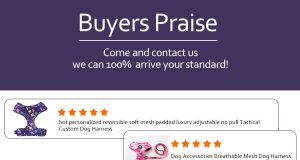 More Hot selling items in Ready stock:
There are no reviews yet.
Only logged in customers who have purchased this product may leave a review.
Quick Comparison
Settings
Ready Stock: Dog Harness Set with Leash, Collar, poop bag holder and Bandanas

remove

Custom Logo Dog Harness set: Collar, leash, poop bag and bandanas

remove

Metal Buckle Adjustable Woolen Dog Harness Collar Leash Set

remove

Custom Logo Dog Harness set-Pink

remove

SBR Rain Bow Custome Designs Dog Harness Collar Leash Set

remove

Metal Buckle Adjustable Velvet Dog harness Set, MOQ: 20 pcs

remove

Image
SKU
Rating
Price

$

4.00

$

39.90

$

9.00

$

9.00

$

5.00 –

$

25.00
Stock
Availability
Add to cart
Description
After making custom design harness set for our clients, we found there are many small clients looking for ready stock with small MOQ as low as 1 pcs. so we stock some hot selling items in ready stock... with good price. This is hot selling 6 pcs  dog harness set comes with harness, collar, leash, poop bag holder bow tie  and bandanna, It make with quality neoprene and meshing back. Defeat Logo Mark: For Pet, Planet 21 Comes in 5 different patterns and 4 size. There is no MOQ  requirement for Ready stock items from our website. You can mixed them with different styles.
Custom Logo Harness Set This is not a ready stock section. All the products need to be produced. You can decide the size, pattern, logo, even marterial of your set. This SBR material harness set is very popular in EU and UK market. We have made many similar style in various colors. There is no seting price for this harness, it will be depends on your order. Please contact us with the quantity, size, logo and other requirement to get a quotation. , MOQ: 50pcs per style.....
Metal Buckle Woolen Adjustable dog harness Set Harness size as follow:[PSCW_SIZE_CHART ID='30448'] The price here are include Harness, Bow Tie Collar, Leash, poop bag Three Colors available
Custom Logo Harness Set This is not a ready stock section. All the products need to be produced. You can decide the size, pattern, logo, even marterial of your set. This SBR material harness set is very popular in EU and UK market. We have made many similar style in various colors. There is no seting price for this harness, it will be depends on your order. Please contact us with the quantity, size, logo and other requirement to get a quotation. , MOQ: 50pcs per style.....
Custom Logo Harness Set This is not a ready stock section. All the products need to be produced. You can decide the size, pattern, logo, even marterial of your set. This SBR material harness set is very popular in EU and UK market. We have made many similar style in various colors. There is no seting price for this harness, it will be depends on your order. Please contact us with the quantity, size, logo and other requirement to get a quotation. , MOQ: 50pcs per style.....
Metal Buckle acquard Velvet  Adjustable dog harness Set This Set including Harness, Bow Tie Collar, Leash, Poop bag holder 11 colors available Harness: 12USD, Bow Tie: 2USD, Collar: 5USD. Lead: 6USD Poop Bag: 3USD. The 5 pcs Set: 26USD
Content
      More Hot selling items in Ready stock:
We can make custom design harness, collar and leash, poop bag set according your requriement. Here is How it is works: For the following styles, we can give you a quot based on the price you order. If you want to create your own style with your own pattern, then you may send us your details requirement and pattern image, quantity, then we can give you a quot based on your requirement. If  you are satisfied with the price we quot, we would suggest you to make a real sample before you place your bulk order... which will cost about 30USD, takes about 10 days. You can see exactly how it looks like before mass production. We will reduce this 30usd from the total of your real order. You are the one who can decide the style, pattern, size and quantity. How long it going to takes? It will takes about 20-30 days. What shipping about the shipping cost: It would be depends on the weight and shipping method .. We will give you a estimate shipping cost in the quote. What is your MOQ? We work with small MOQ like 10, 20, 30 pcs per style per size, Of course, large bulk orders is much cheaper than small order like 10 pcs per size per style.   
Weight
Dimensions
N/A
N/A
N/A
N/A
N/A
N/A
Additional information