120mm X 8mm Durable Nylon Dog Leash Walking Training Pet Leashes for small dog
Material:Nylon

Size:0.8CM*120CM

Rugged – The dog leash is made of soft material and is perfect for all dogs to learn. You will walk with the dog for years.

It is easy to use, comfortable to wear, great quality with strong material to keep you and your pet safe, your dog can comfortably run in front of you, or beside you

This training belt is very suitable for teaching your dog to recall. It has the length needed to allow them to smash and make sure to issue commands! obey. Allows you to teach dog recalls and other obedience skills.

Color available. Blue, Pink, Yellow, Orange.
Price: 5-20pcs: $1.99,
20-100pcs:$1.59
100-500pcs:$1.39
over 500 pcs: $1
Price does not include shipping and tax.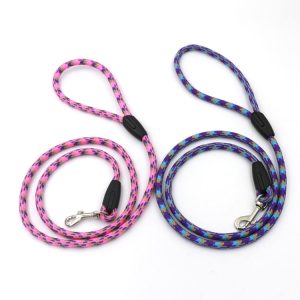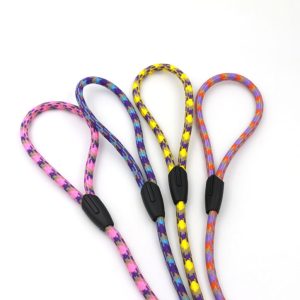 There are no reviews yet.
Only logged in customers who have purchased this product may leave a review.
Quick Comparison
Settings
120mm X 8mm Durable Nylon Dog Leash Walking Training Pet Leashes for small dog

remove

Eco-friendly pet poop bags 18 Rolls /270 Count Dog Poop Bags

remove

Hot sale Dog poop bag dispenser wholesale price

remove

Eco-friendly pet poop bags 22 Rolls /330 Count Dog Poop Bags with silicone dispenser

remove

Eco-friendly pet poop bags 36 Rolls /540 Count Dog Poop Bags

remove

WL-0225 Afstandsbediening Trainer Training Hond Barking Control Collar Stijl: 1 tot 1

remove

Image
SKU
Rating
Price

$

1.99

$

19.90
Stock
Availability
Add to cart
Description

Material:Nylon

Size:0.8CM*120CM

Rugged - The dog leash is made of soft material and is perfect for all dogs to learn. You will walk with the dog for years.

It is easy to use, comfortable to wear, great quality with strong material to keep you and your pet safe, your dog can comfortably run in front of you, or beside you

This training belt is very suitable for teaching your dog to recall. It has the length needed to allow them to smash and make sure to issue commands! obey. Allows you to teach dog recalls and other obedience skills.

Color available. Blue, Pink, Yellow, Orange.
Price: 5-20pcs: $1.99,
20-100pcs:$1.59
100-500pcs:$1.39
over 500 pcs: $1
Price does not include shipping and tax.

You can get 270-count dog poop bags on 60 refill rolls of 15 bags.
4 scents to choose, durable and tear proof, easy to detach and open.
13 x 9 inches, Large and Thick poop bags are big enough for even the largest of dogs
As a cat litter bags is great for cat owners to use for litter box clean up.

Packaging: 15 bags*18 roll  270 bags per packet weight: 602 grams box size: 10.3cm *10.3cm *12.8cm 30 packets in a  53cm*32cm*28 cm box,  which makes a total weight 18.91 kg The shipping cost is not included
Amazpetsupplies is online wholesale store. We provide our clients super quality pet supplies at rock bottom price. All the price list on our website does not include shipping cost. Size:9.5*5*5cm , Weight: 35 grams, Packaging: 100pcs per box, 

Box Size :23*49*33CM

Net weight: 3.5KG/, Gross weight: 4.8KG/box

You can get 270-count dog poop bags on 60 refill rolls of 15 bags.
4 scents to choose, durable and tear proof, easy to detach and open.
13 x 9 inches, Large and Thick poop bags are big enough for even the largest of dogs
As a cat litter bags is great for cat owners to use for litter box clean up.

Packaging: 15 bags*18 roll  330 bags per packet weight: 750 grams box size: 24*21.2*4cm 24 packets in a  53cm*32cm*28 cm box,  which makes a total weight 18.5 kg The shipping cost is not included

You can get 270-count dog poop bags on 60 refill rolls of 15 bags.
4 scents to choose, durable and tear proof, easy to detach and open.
13 x 9 inches, Large and Thick poop bags are big enough for even the largest of dogs
As a cat litter bags is great for cat owners to use for litter box clean up.

Packaging: 15 bags*36 roll  540 bags per packet weight: 1150 grams box size: 10.3cm *10.3cm *12.8cm 16 packets in a  53cm*32cm*28 cm box,  which makes a total weight 19.25 kg The shipping cost is not included
Features:

Rechargeable: Rechargeable remote and rechargeable receiver.
Waterproof: Waterproof receiver; Even in rain days, it works well.
Adjustable Levels: Adjust the levels of vibration mode and shock mode from 0-8.
Three modes: Shock/Vibration and Sound.
Remote Distant: Remote 500M without obstacles.
Three Channels: Choose channel for max 3 receivers with 1 remote.(Can be extended to three dogs).
Auto Power Save: The remote and the receiver will go into standby mode if no operations within 5minutes.
For Dogs: Adjustable TPU strap to accommodate any size of dog
.

Content
Key Product Facts:

100% Biodegradable & Home Compostable
Tested and certified to degrade  within 3 - 6 months into entirely natural elements, making them the best environmentally friendly poop bag currently available.
Box and cores made of cardboard
Popular in Europe and US
Super strong - 18 microns thick
Versatile size 9.05'' x 13.99 ''
Dark & opaque with camo print
Rolls fit all standard dispensers
Easy tie and carry handles
Three scents to choose from: Orange, Mint, Lemon, Lavender
Vegan friendly
 

We also have 9 rolls, 22 rolls (EU market) , 24 rolls,  36 rolls packaging available.

Large order and OEM order are welcome.

 

Finally, the perfect dog leash accessory for active dog lovers! This lightweight dog bag dispenser adds a new level of freedom & enjoyment to running, hiking or walking with your pup. Easily access your bags right when you need them most for those sudden surprises!Do you love to take walks with your four-legged furpal but hate having to struggle to find dog poop bags to clean up the mess? With the this premium dog poop bag dispenser, you can have access to your next dog waste bag with a simple pull! This lightweight stylish holder quickly and easily attaches securely around your leash, belt, or harness so you can free up another hand to hold your water bottle or talk on the phone. Attaches flat so it won't hang and get in your way. It's dog walking like you've never experienced before!Our intelligently designed dog poop bag holder holds 1 standard sized roll of dog poop bags and allows extra room to store a set of keys or some small treats for your dog. Simply open with the conveniently placed zipper and insert your next roll of bags.
This premium dog waste bag holder is constructed of rugged nylon that stands up to sun, rain & snow like a champ. It won't crack or break like other poop bag dispensers.Attaches easily to your favorite leash Lays flat so won't hang or bounce Holds 1 roll of standard dog poo bags (Included Free!) Extra storage for keys or small treats
   11.5*7*5.5CM box could be applied, if you need it, please contact us.

Key Product Facts:

100% Biodegradable & Home Compostable
Tested and certified to degrade  within 3 - 6 months into entirely natural elements, making them the best environmentally friendly poop bag currently available.
Box and cores made of cardboard
Popular in Europe and US
Super strong - 18 microns thick
Versatile size 9.05'' x 13.99 ''
Dark & opaque with camo print
Rolls fit all standard dispensers
Easy tie and carry handles
Three scents to choose from: Orange, Mint, Lemon, Lavender
Vegan friendly
 

We also have 9 rolls, 22 rolls (EU market) , 24 rolls,  36 rolls packaging available.

Large order and OEM order are welcome.

 

Key Product Facts:

100% Biodegradable & Home Compostable
Tested and certified to degrade  within 3 - 6 months into entirely natural elements, making them the best environmentally friendly poop bag currently available.
Box and cores made of cardboard
Popular in Europe and US
Super strong - 18 microns thick
Versatile size 9.05'' x 13.99 ''
Dark & opaque with camo print
Rolls fit all standard dispensers
Easy tie and carry handles
Three scents to choose from: Orange, Mint, Lemon, Lavender
Vegan friendly
 

We also have 9 rolls, 22 rolls (EU market) , 24 rolls,  36 rolls packaging available.

Large order and OEM order are welcome.

 

Frequently Asked Questions: Q: How long the length of the belt collar? A: It's 70cm Q: How old does the dog have to be before using the system? A: Your dog should have learned basic obedience commands such as, "sit" or "stay." The Collar Receiver might be too large for dogs under 15lbs. Q: Can I use this rechargeable training collar with more than one dog? A: Yes, you just need to purchase another Collar Receiver for the system. Max for 3 dogs. Q: Is the Collar Receiver waterproof? A: Yes, but always ensure that the Rubber Cover seals the Charging Jack. Q: The Remote Transmitter does not work. Check the battery status of the Remote Transmitter. Press and hold the Power Button for a few seconds to power on the Remote Transmitter. Q: My collar-receiver works great for some time, yet it does not work after charging. A: First, check if the receiver has been charged correctly. Check the "prepare the collar receiver" part of the guide for the correct charging method. Check if the receiver has been powered on. Q: I want to test the Collar Receiver on myself, but it does not work. A:When testing the Collar Receiver with your hands, please touch the two electrodes simultaneously, as touching one electrode will not.
Weight
Dimensions
N/A
N/A
N/A
N/A
N/A
N/A
Additional information